How To Find Out Their Ring Size Without Them Knowing
It's the most important question you'll ever ask: no wonder you want everything to be just right. From the Where to the When to the How of your marriage proposal, there's a lot to think about. And then there's the ring! 
Even if you're sure about your partners taste in fine jewellery, you might be struggling to determine their ring size.
Here are five ways to figure it out and hope they don't figure out what you are doing!
"Borrow" her jewellery
If they already wear a ring on their ring finger (even if it's on the right hand), you can use that as a guide. Wait until they take it off and then lay it on a piece of paper, tracing the inside and outside with pencil.
You can also slip it over one of your fingers and use a pen to mark where it stops.
Whichever method you choose, print out our handy ring size guide to take the final measurement.
Ask A Friend
A great way to find out their ring size is to ask one of their friends. Friends occasionally have this insight! And, if the friend doesn't know right away, she can be the one to ask. EVEN better, ask the friend to take your partner ring shopping "for fun." Get  the friend to have your partner  professionally sized and report back to you. 
Put a string on it…
Hopefully your partner is a deep a sleeper ? If they can snooze with the best of them (and you've got steady hands!) try looping a piece of string around their finger while they are asleep. Just make sure it's not wound too tightly; the "ring" should be able to move gently over their knuckle. Once you've got it on right, make note of meeting point of the string, then mark it with a pen or cut to the correct length. Again, use the ring size guide to measure.
Compare Fingers
This method is a little more difficult and not very accurate, BUT if you are desperate, go ahead and try it out! When you are holding their hand, see if one of their fingers is similar in size to a finger of yours.
For example, their ring finger might be as big as your pinky. This method isn't amazingly accurate, but the more information we have on their ring size the closer we can get!
LAST Resort…Give a guess
The average woman's ring finger is a size six. Assess whether or not your girlfriend's hands are average, or on the larger or smaller side, and then make the call. When in doubt, go larger; it's easier to size down than up.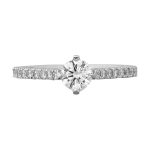 Final Thoughts…
The two most accurate ways to confirm ring size are to come in and have your partner sized by us in person or have them visit a local jeweller. Using one or several of the methods above will result in a very good approximation, but there is always the risk that it will be slightly off!!